the wheels of chance
Kings Langley Press is proud to announce a new illustrated hardcover edition of The Wheels of Chance by H.G. Wells. Not as well known as Wells's science-fiction works like The Time Machine, The Invisible Man and The War of the Worlds, this comic novel belongs to a distinct group of his works, together with Love and Mr. Lewisham, Kipps and Ann Veronica. These works, in Wells's own words, study "personalities thwarted and crippled by the defects of our contemporary civilisation."
The Wheels of Chance takes readers on a delightful bicycle tour of the English countryside, where the protagonist—a drapery shop clerk called Hoopdriver—encounters new acquaintances, navigates societal norms, and uncovers deeper insights into his own character. Wells's signature blend of satire, humor, and social commentary provides a refreshing perspective on the Victorian era, making this novel a must-read for fans of classic literature.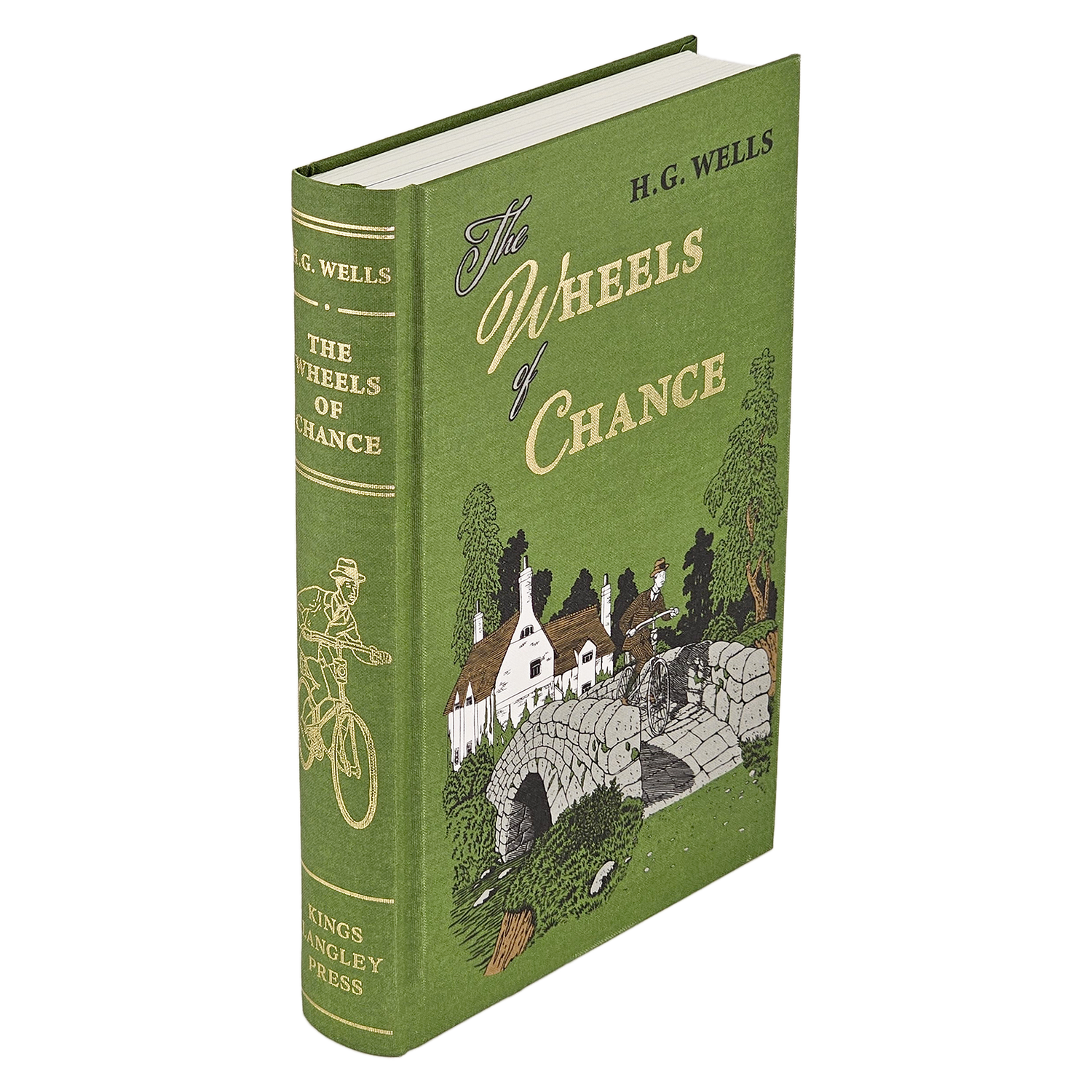 The Wheels of Chance
Introduction by Jeremy Withers
B&W illustrations by J. Ayton Symington
Colour plates by Nikolay Fomin
Maps by Mike Hall
BUY NOW
Production details
Smyth-sewn, hardcover binding
Covered in book-cloth, printed and blocked with a design by the artist
Set in Ten Oldstyle
288 pages
Printed offset on premium acid-free age-resistant cream-coloured paper
Size 6¼" × 9¼"
Printed endpapers
Editorial footnotes for archaic words and expressions
Editorial note on the pre-decimal British currency
Head/tail-bands and silk ribbon
Frontispiece and nine colour illustrations
40 black-and-white illustrations reproduced from the first edition
Paper-covered slipcase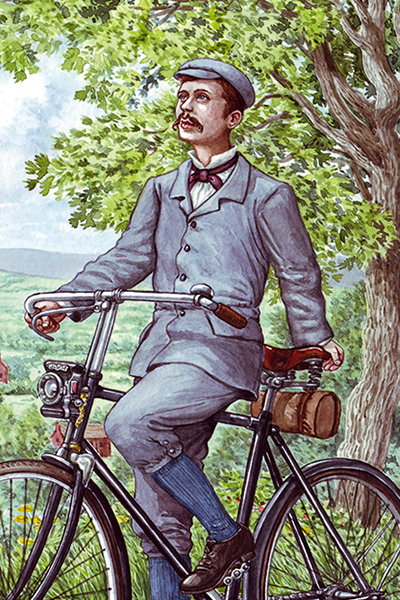 About H.G. Wells
H.G. Wells (1866-1946) was a British writer and social critic, best known for his pioneering works of science fiction. However, Wells was also a prolific author of non-science fiction works that explored a wide range of social and political issues.
Despite the enduring popularity of his science fiction works, Wells's non-science fiction works remain an important and influential part of his legacy. His writing on social and political issues helped to shape public opinion and paved the way for social change. Wells's works continue to be studied and debated today, and his contributions to literature and social thought remain significant.
About J. Ayton Symington
J. Ayton Symington (1861-1938) was a highly accomplished Scottish artist and illustrator who was renowned for his detailed and realistic depictions of plants, animals, and landscapes. His work appeared in a wide range of books and magazines during his career, making him one of the most influential illustrators of his time.
This edition contains forty of his pen-and-ink illustrations from the first edtion, which was published in 1896 in London by J.M. Dent.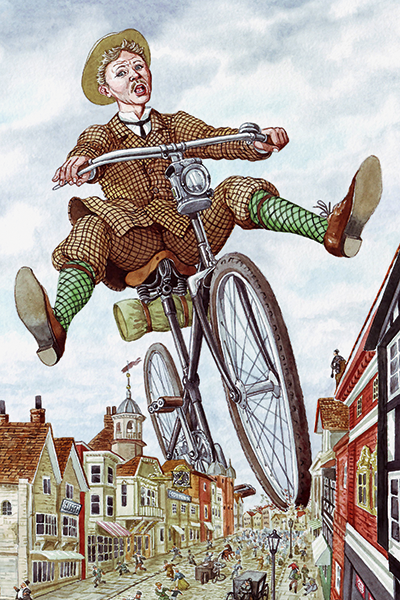 About Nikolay Fomin
Nikolay Fomin is a freelance illustrator from the Ural region of Russia. He enjoys nature, hiking, painting, and illustrating books, particularly classics. He currently resides in Kirov, Russia.
For this edition, Nikolay created a frontispiece and nine illustrations in watercolour. Great care has been taken to make sure all the characters, clothes, bicycles and architectural details match those of Symington's black-and-white illustrations, to provide consistent look.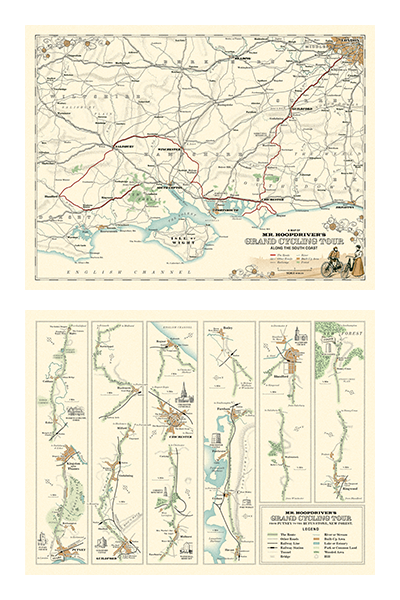 About Mike Hall
Mike Hall is a talented freelance illustrator and map designer currently residing in Valencia, Spain. For this edition, Mike produced two stunning maps which are printed as the front and back-endpapers.
The first map is a beautifully rendered, vintage-style map of south-east England depicting Mr. Hoop­driv­er's journey from Putney to the Rufus Stone. It features every town and village visited by the protagonists and many more.
The second map is a linear route map in a style pioneered by John Ogilby. The map is composed of vertical strips centered on a stretch of road, allowing readers to easily orient themselves in the direction of travel regardless of the true north. The map shows essential topographic details like hills, rivers, bridges, and also includes decorative images of several buildings mentioned in the book.
As usual in his books, in The Wheels of Chance H. G. Wells pays great attention to geographical descriptions, and Mike's maps are designed to help readers follow Mr. Hoopdriver's journey along the route with ease.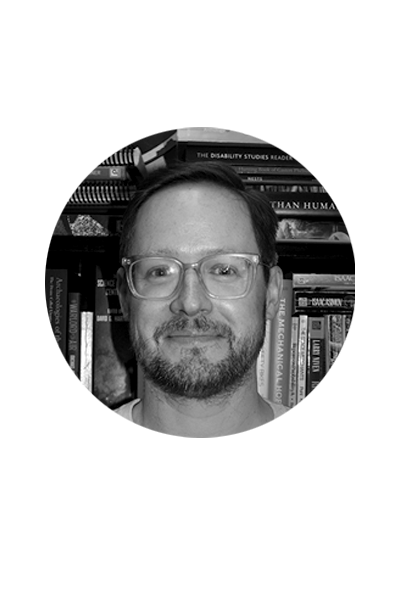 About Jeremy Withers
Jeremy Withers is an associate professor of English Department at Iowa State University where his research focuses on the relationship between science fiction and transportation politics. His publications include The War of the Wheels: H. G. Wells and the Bicycle (2017) and Futuristic Cars and Space Bicycles: Contesting the Road in American Science Fiction (2020).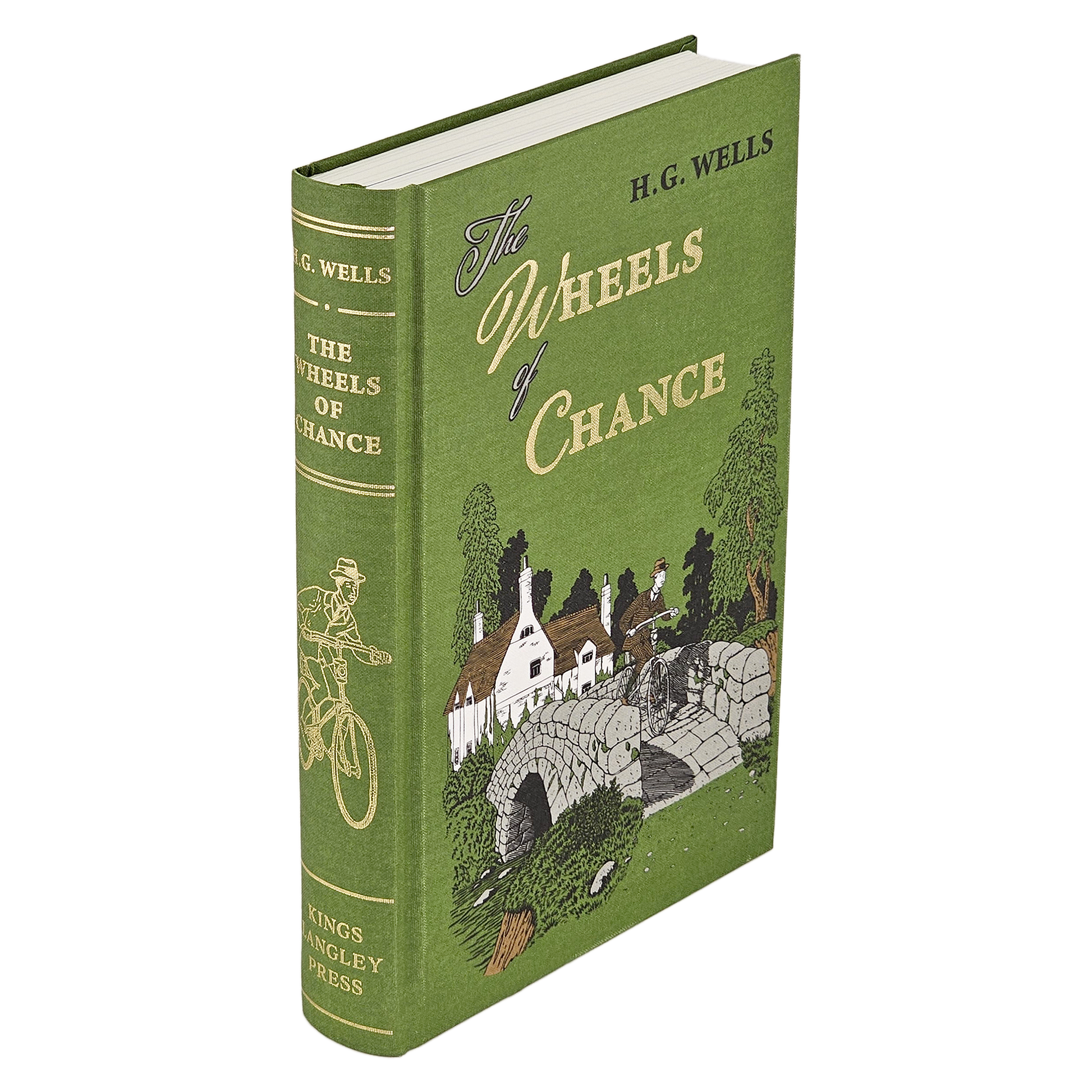 The Wheels of Chance
Regular price
Sale price
$78.00 USD
Unit price
per
Pre-order discount
Sold out
Share